text.skipToContent
text.skipToNavigation
Pick Up In Store In As Little As 3 Hours.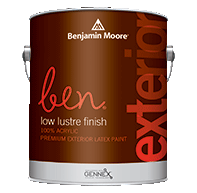 ben Waterborne Exterior Paint - Low Lustre
Benjamin Moore
A 100% acrylic exterior paint delivering dependable performance for beautiful transformations—the perfect choice for novice painters who want premium paint with easy and forgiving application properties. Exterior paint may require additional time for pickup availability.
Added to your shopping cart
This item is currently unavailable.
A premium-quality, 100% acrylic paint designed for application to a wide variety of exterior surfaces such as wood, hardboard, vinyl and aluminum siding, shingles, unglazed brick, concrete, stucco, cinder block, and primed metal. The finish provides a breathable surface for maximum durability. Exterior paint may require additional time for pickup availability.
Resists exposure to rain as soon as 90-120 minutes after application*
Dirt pickup resistance and cleanability equal to or better than other "self-cleaning" exterior latex paints**
Low temperature application down to 1.6 °C extends the painting season
Excellent flow and levelling offer consistent application on all surfaces
Great coverage and colour retention
100% acrylic resin delivers excellent adhesion and resistance to cracking and peeling
Provides a mildew-resistant coating
25-year limited warranty (see TDS for details)
Engineered with Gennex® Colour Technology *After application over wood, primed surfaces or previously painted surfaces (25 °C / 50% RH). Other surfaces such as hardboard or vinyl may require a longer dry time.
**Based on Benjamin Moore lab test results. Label and technical data sheet recommendations must be followed, including priming recommendations over masonry where applicable.
Feature
Mildew Resistant Coating
Self Priming
Interior/Exterior
Exterior
Recommended For Use On
New or previously painted wood, hardboard siding, cured masonry, and unglazed brick.
Substrate
Wood
Masonry
Non-Ferrous Metal
Vinyl
VOC (g/L)
44,449992
Regulatory
VOC compliant in all areas
Specifications
MPI 15
Coverage (Sq. Ft./Gal)
32.5-44 m2/3.79 L can
Number of Recommended Coats
1 or 2
Set to Touch
1 hour
Recoat Time
4 hours
Full Cure (Days)
14
Resin Vehicle Type
100% Acrylic
Clean Up
Soap and Water
Volume Solids (±2%)
33,3
WFT: Wet Film Thickness (mils)
3,8
DFT: Dry Film Thickness (mils)
1,3
WPG (Weight per Gallon)
10.7
Application Temp Range (°F)
1.6-37.7
Application Spray Pressure (PSI)
1500-2500
Doing it yourself? Get the top step-by-step tips and best practices on painting interior and exterior surfaces in your home to make your next project a success.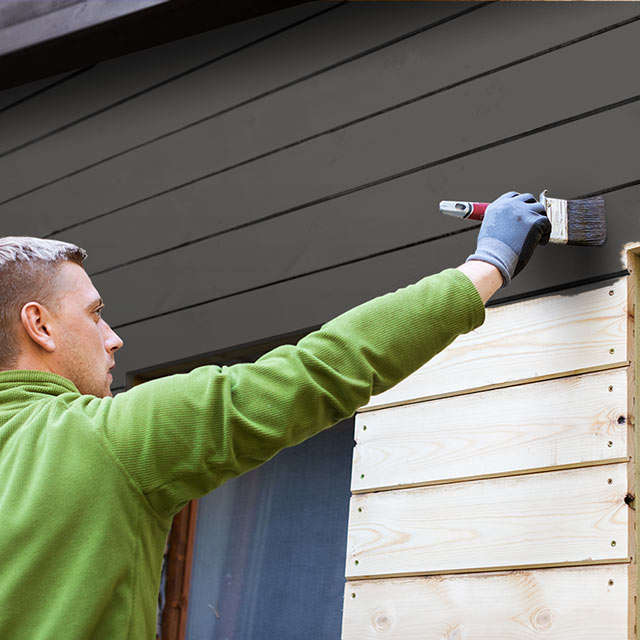 Projects for Your Home Exterior
---
Ready to beautify your outdoor space? Update your home's exterior with tips and best practices from the experts.
Safety Data Sheets
Technical Data Sheets
Please note that not all Benjamin Moore & Co., Limited products are available in all areas due to VOC regulations. Please check with your local retailer before making your selection. Reported technical data is representative of the product line. Contact Benjamin Moore® for values of specific bases or colours. See Technical Data Sheet (TDS) for additional information. For the most up-to-date MPI specifications, visit www.mpi.net