text.skipToContent
text.skipToNavigation
Pick Up In Store in As Little As 3 Hours.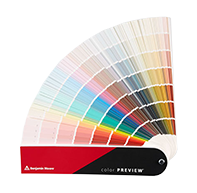 Colour Preview Fan Deck
Benjamin Moore
Expressive colours across the spectrum.
Added to your shopping cart
This item is currently unavailable.
From bold hues to airy pastels and saturated deeps, this colour system is an essential component of the overall Benjamin Moore® colour system.
A collection of 1232 colours
Sheen leaves to illustrate the various sheens and finishes offered in Benjamin Moore products
Trilingual: English, Spanish and Canadian French