text.skipToContent
text.skipToNavigation
Eligible Items Ship FREE at $25+ & Pick Up In Store in As Little As 3 Hours.
We apologize in advance as some shipping may be delayed.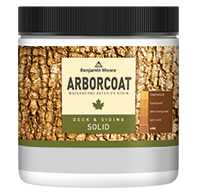 ARBORCOAT® Waterborne Exterior Stain Sample - 8 oz.
Benjamin Moore
Our ARBORCOAT® stain samples will help you find the perfect color for your project.
Added to Your Shopping Cart
This item is currently unavailable.
Try on a color before you commit to the time and expense of a stain project with our ARBORCOAT® stain samples.
Available in over 3,500+ colors
8 oz sample size
Solid opacity
Please note that not all Benjamin Moore & Co. products are available in all areas due to VOC regulations. Please check with your local retailer before making your selection.Reported technical data is representative of the product line. Contact Benjamin Moore for values of specific bases or colors. See Technical Data Sheet (TDS) for additional information.For the most up-to-date MPI specifications, visit www.mpi.net