text.skipToContent
text.skipToNavigation
Eligible Items Ship FREE at $25+ & Pick Up In Store In As Little As 3 Hours.
Angel's Wings 1423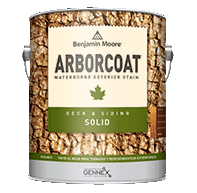 Arborcoat® Exterior Stain - Solid Gallon Angel's Wings 1423
Benjamin Moore
Enhances the natural beauty of exterior wood surfaces with a wide variety of opacities and colors, while providing superior protection against mildew, UV damage, and other harsh weather conditions.
Changing Opacity and Size will reset other options.
Added to Your Shopping Cart
This item is currently unavailable.
This item is only available for Pick Up In Store
A premium-quality, 100% acrylic waterborne solid stain formulated to protect and beautify types of wood decks.
Superior UV protection
Resists blistering, peeling, stains, and scuffs
Provides a mildew-resistant coating
Excellent touch-up and recoat properties
Engineered with Gennex® Color Technology
| | |
| --- | --- |
| Feature | Mildew Resistant Coating |
| Interior/Exterior | Exterior |
| Recommended For Use On | New or old unweathered wood| properly weathered wood| and previously painted or stained wood. Ideal for staining older weathered composite decks. |
| Substrate | Wood |
| VOC (g/L) | 94|9 |
| Regulatory | VOC compliant in all areas |
| Specifications | MPI 16 |
| Coverage (Sq. Ft./Gal) | 300-400 |
| Number of Recommended Coats | 1 or 2 |
| Set to Touch | 1 hour |
| Recoat Time | 3-4 hours |
| Full Cure (Days) | 14 |
| Resin Vehicle Type | 100% Acrylic Latex |
| Clean Up | Soap and Water |
| Volume Solids (±2%) | 38|4 |
| WPG (Weight per Gallon) | 11.9 |
| Applicator | Benjamin Moore® Exterior Stain Brush| High Capacity Professional Roller Covers |
| Application Temp Range (°F) | 40-90 |
| Application Spray Pressure (PSI) | 2000-2500 |
Safety Data Sheets
Technical Data Sheets
Please note that not all Benjamin Moore & Co. products are available in all areas due to VOC regulations. Please check with your local retailer before making your selection. Reported technical data is representative of the product line. Contact Benjamin Moore® for values of specific bases or colors. See Technical Data Sheet (TDS) for additional information. For the most up-to-date MPI specifications, visit www.mpi.net