text.skipToContent
text.skipToNavigation
Saint Martin Sand 2164-50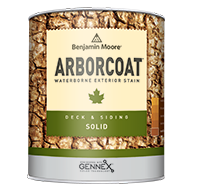 Arborcoat® Exterior Stain - Solid Pint Saint Martin Sand 2164-50
Benjamin Moore
Our one pint samples of ARBORCOAT Waterborne Solid Stain will help you find the perfect color for your project.

Free Shipping 11/15-11/30/20.
Added to Your Shopping Cart
This item is currently unavailable.
A premium-quality, 100% acrylic waterborne solid stain that enhances and protects while still allowing the texture of the wood to show through. It is formulated to protect and beautify all types of wood decks, including cedar, redwood, and pressure treated lumber. Available in any color and great for coating composite decking. Exterior paint may require additional time for pick up availability.
Superior UV protection
Resists blistering, peeling, stains, and scuffs
Provides a mildew-resistant coating
Excellent touch-up and recoat properties
Engineered with Gennex® Color Technology
Safety Data Sheets
Technical Data Sheets
Please note that not all Benjamin Moore & Co. products are available in all areas due to VOC regulations. Please check with your local retailer before making your selection.Reported technical data is representative of the product line. Contact Benjamin Moore for values of specific bases or colors. See Technical Data Sheet (TDS) for additional information.For the most up-to-date MPI specifications, visit www.mpi.net